Choirs of the Dubuque Chorale
Our mission: To engage, educate, enrich, and inspire the community by presenting diverse choral music with artistic excellence.
Dubuque Chorale
The Dubuque Chorale is a community choral organization of singers from Dubuque and outlying communities. Singers of all ages from high school on are welcome to participate in this nonprofit group, which is dedicated to improving the musical skills of its singers and to providing quality musical entertainment for its audiences.
History
Dennis Williams founded the group in 1971. The chorale's initial purpose was to study and perform the great choral masterworks with orchestra; the first season featured Handel's Messiah and Haydn's Creation. Since then the group has performed over 60 major choral works, and its mission has evolved to include all great choral music. The Chorale's 42 years of performances, with over 1,100 singer alumni reaching more than 40,000 audience members, attests to the accomplishment of this mission.
In 1986 the Chorale began collaborating with the Dubuque Symphony Orchestra with the performance of that year's Holiday Concerts. The relationship continues today, with the Chorale typically joining the DSO for Holiday Pops and another featured work during the season as part of the symphony's subscription series. The Chorale also presents its own concerts in the fall and spring, an outdoor performance in the summer, and additional engagements as requested.
In 1994 the Dubuque Chorale embarked on its first international tour to England and Wales. Since then members of the organization have visited and performed in Germany, Austria, the Czech Republic, Norway, Sweden, Finland, Russia, Italy (singing for a mass at the Vatican), Switzerland, New Zealand, and Australia (singing with renowned conductor Eric Whitacre at the Sydney Opera House). In June 2011 they toured and performed in New York City along with community and university singers from the Wisconsin communities of Platteville, Mt. Horeb, and Fond du Lac. In the summer of 2014, they visited the British Isles, and in 2018 toured Montreal and Quebec City.
In 2018 Dr. Amanda Huntleigh accepted the position of artistic director and conductor of the Dubuque Chorale, replacing Bob Demaree, who was director from 2009 to 2018 and who succeeded Fran Vogt (2006-2009). The Chorale looks forward to an exciting future with Amanda!
Children's Choir
The beginning of the of 2014/15 season saw the launch of the Dubuque Chorale Children's Choir, a group of approximately 50 singers in grades 4-6. The choir is under the direction of Karmella Sellers.
The purpose of the Children's Choir is to provide a creative outlet outside of the regular school day for children of Dubuque and surrounding areas. Our intention is to expose students to new music and performance opportunities they may not have in school, and give them the opportunity to interact and form relationships with other children and adults from their community who are dedicated to choral excellence.
The goals of the group:
Empower and mentor children through music by using discipline, teamwork, and creativity to produce works of beauty and art.
Help the children to develop an appreciation for both sacred and secular music.
Teach music fundamentals such as sight reading, vocal production, and musical interpretation.
Offer opportunities to underserved children through a scholarship program made possible by community supporters.
Membership
Students must be enrolled in grade 4, 5, or 6 for the academic year during which they participate. Participation of students is encouraged throughout the tri-state area from both public and parochial schools, particularly Dubuque, East Dubuque, Sinsinawa, Bellevue, Peosta, Dyersville, and beyond. Student participation in the local music program at each respective school is also strongly encouraged.
Interviews for the group for the 2018/19 season will be held August 25, 2018. Click here for the time and location.
Rehearsals are Monday evenings from 5:15‐6:30 at Holy Trinity Lutheran Church.
Cadenza
In the fall of 2012, the Dubuque Chorale added a chamber choir called Dubuque Chorale Cadenza. This mixed-voice group of 16-24 singers is designed to give the Chorale greater flexibility in booking performance engagements, increasing the Chorale's exposure as a community arts leader and advocate. The group makes presentations at community service organizations and other community events. It also performs pieces at regular Chorale concerts.
Musically, a "cadenza" is a small section of a solo concerto during which the soloist plays in a particularly virtuosic (and often improvised) manner. The cadenza most often occurs just before the final statement of the main theme of the movement and is considered a tour de force. By analogy, Dubuque Chorale Cadenza is a small group within the full Chorale, offering a choral flourish to the larger performance!
Membership
Cadenza members are required to audition. For more information, contact the director. Participating in Cadenza for a given semester also requires participation in that semester's program for the full Chorale.
Booking Opportunities
Part of Cadenza's mission is to promote community awareness of vocal music and the Dubuque Chorale. If you are interested in having the group perform for your organization, please contact the Chorale president, Teresa Eckhart.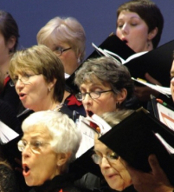 Choirs
Our ensembles.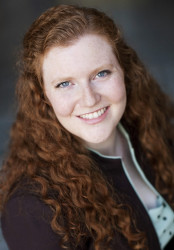 Amanda Huntleigh,
Artistic Director

Dr. Amanda Huntleigh assumed directorship of the Dubuque Chorale in the summer of 2018. At the same time she began her position as Assistant Professor of Music and Director of Choral Activities at Clarke University in Dubuque. This follows her position as Assistant Director of Chorale Activities and Lecturer at Smith College in Northhampton, MA.
Huntleigh received her Doctorate of Musical Arts in choral conducting from the University of Washington, her Master of Music degree in conducting from George Mason University, and her Bachelor of Music Education degree from Wartburg College. Earlier in her career, she taught choral, instrumental, and general music in Illinois, Virginia, and Delaware public schools.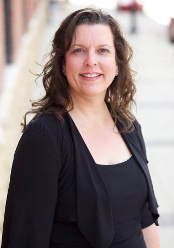 Karmella Sellers,
Children's Choir Director

As director of the Dubuque Chorale Children's Choir, Karmella Sellers brings with her over 25 years of experience as a music educator, firmly believing that music not only enriches lives, but teaches discipline, teamwork and cooperation. As a Music Specialist in the Dubuque Community School District since 2005, she has served the community through teaching elementary children about the wonders of music and choral singing.
Mrs. Sellers has been one of the district's Honor Choir directors since its inception. In April 2017, she was the guest conductor of the Tri-State Youth Choral Festival. She received her Bachelor of Music Education from Grand Canyon University (Phoenix, Arizona), and her Masters in Elementary Education from Northern Arizona University. In 2009, Mrs. Sellers achieved National Board Certification. She is also a member of the American Choral Directors Association, the Iowa Music Educators Association, the National Association for Music Educators, and the National Education Association.