Movie Melodies
Saturday April 21, 2018, 7:30 pm
Sunday April 22, 2018, 2:00 pm
Five Flags Theater
405 Main Street, Dubuque
The Dubuque Chorale, Cadenza, and Children's Choir usher in the 2018 Julien Dubuque International Film Festival with a concert of music from great movies. Audiences will also enjoy clips from films that will be shown during the festival the following week.
Program
Come enjoy a night the movies with the Dubuque Chorale! While you enjoy your popcorn and beverage, you'll see trailers from films that will be showing during the festival. After each preview, the choirs of the Chorale will perform music from movies sharing the theme of the preview—sci-fi, action, drama, comedy, romance. Just a sampling includes songs like "Horray for Hollywood," "Song of the Lonely Mountain," a James Bond medley, "Nine to Five," "As Time Goes By," and "Over the Rainbow." The concert wraps up with the Chorale, Cadenza, and Children's Choir performing "The Rainbow Connection."
Tickets
Stay tuned for information about how to purchase concert tickets.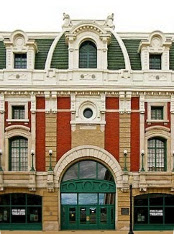 Five Flags Theater
Five Flags is in downtown Dubuque at the corner of 5th and Main Streets. Street and ramp parking is available; click here for details.